Discover the power of AI
with AI-optimised credit decisions
The RDC Platform augments human expert knowledge with AI-native capabilities, providing financial institutions a competitive edge in lending

Introducing AI Decisioning as a Service
Achieve superior lending outcomes
Mitigate risk, reduce credit loss and increase revenue using RDC. Our unique 'glass box' approach enables lenders to use AI with confidence.
Embedded with AI ethical principles to ensure compliance, our tooling allows lenders to visualise and understand the logic behind every AI predictive model and decision strategy.
Leverage traditional, alternative and latent data with leading AI techniques to make accurate predictions and achieve optimal decision outcomes.

Self Describing Decisions
AI-enriched Decisioning
We understand your need to leverage AI safely. So, we came up with a unique method to provide confidence and transparency. We've called it the Self Describing Decision.
Contained in a single data object, every element is explained. All model features and predictions, all reference data, and all rules triggered. A Self-Describing Decision is a complete record of all the information used to generate a decision outcome. Governance and explainability, baked in.
Predictions
Integrated AI resulting in superior predictions.
Our platform enables you to:
Design, Run, and Manage Predictive Models in a single environment
Understand feature performance
Manage model performance and governance
Accumulate decision logic, enabling AI to learn from experience
Streamline reporting within an integrated single environment.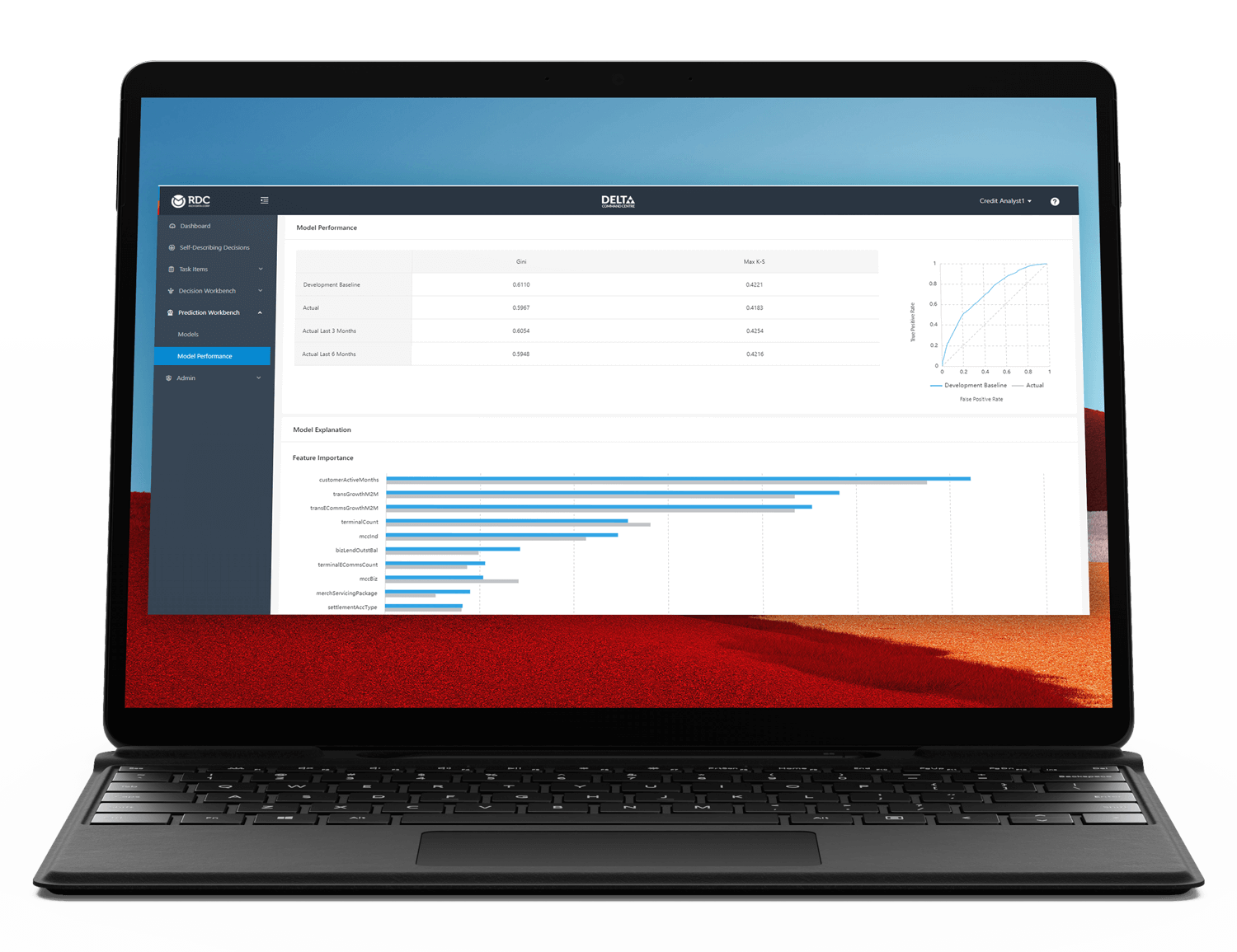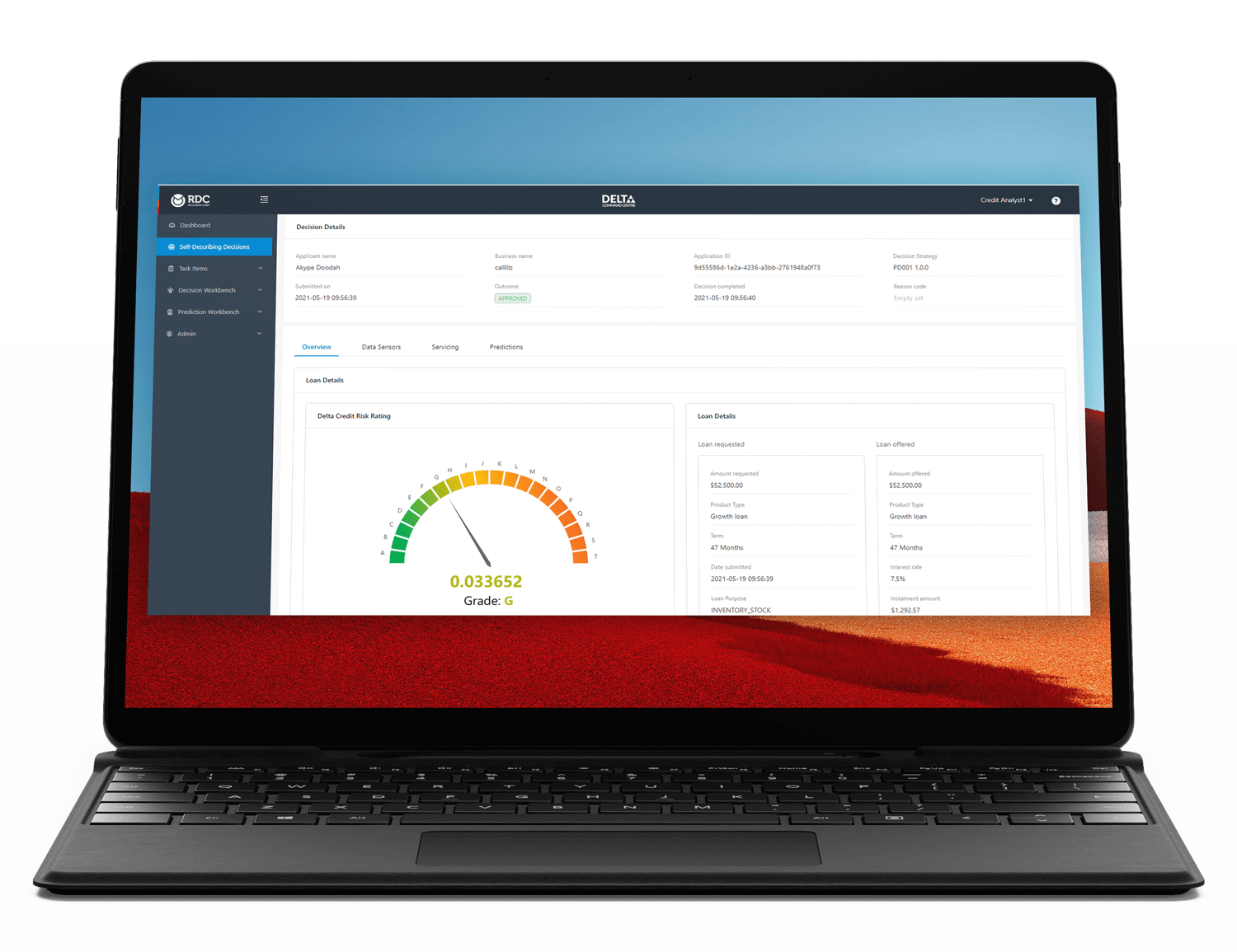 Decisioning
Optimal decision outcomes
Using RDC you can:
Design, Run, and Manage your Decision Strategies
Interpret Self-Describing Decisions with visualisation tooling
Understand and optimise rule performance
Seamlessly publish changes to your decision strategy
Implement 'stateful' decision flows, standardising one-to-one relationships between applications and decision outcomes.
The RDC platform is designed, with security and compliance in mind. Ensuring customers can meet compliance requirements is integral to our operations.
Our cloud-native design is agile and flexible, ensuring we can deliver to your needs. We work closely with all major cloud services providers, and provide SaaS and VPC deployment options.
We take security and data privacy seriously. Our Australian and Singapore based operations are ISO27001 certified.

The RDC platform
Design
Maximise understanding of data to effectively derive features, build models, and map out decision flows.
Run
Implement decision strategies, and operationalize models in real-time.
Manage
Govern model performance, and understand performance of decision strategies
AI-native
A set of distinct principles guides our AI-led approach
Real Time Intelligence
Implement machine learning & predictive modelling to streamline processes and increase operational efficiencies – enabling fast 'time to yes' and 'time to no'
Distributed Intelligence
Mitigate the challenges of bringing distributed data sources together, by leveraging AI to build understanding and bring the learning together to realise value.
Accumulative Intelligence
In scenarios with little or no data, AI can take an understanding from existing scenarios and be applied to new scenarios to build predictions.
Teachable Intelligence
Augment AI with expert Banker and Risk expert knowledge.
Explainable Intelligence
A principle to govern the use of AI – ensuring techniques are safe and transparent through a 'Glass Box' approach.
NAB turns to AI to decide on small business loans.
"We partnered with Rich Data Co for their proven ability to innovate, augment and expand our small business lending capability. Their platform enables us to innovate and accelerate our lending options in this market, leveraging alternative data and AI techniques."
Howard Silby
Chief Innovation Officer, NAB
Experience the RDC difference
Book a demonstration to see the power first-hand